Either you work in coffee shops, from home, at the office or you're always on the go, a good portable laptop/tablet stand can mean a lot for your ergonomic working posture and your health.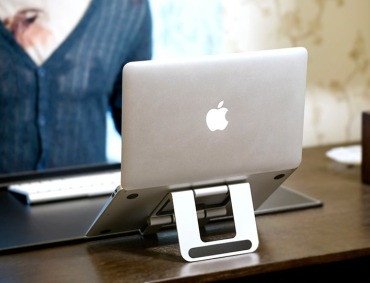 The Ridge Stand is a stand for MacBook, iPad or iPhone designed to help organize workspace, reduce the clutter, and make clean lines. It's very portable, well-designed and useful. Intended to elevate your MacBook Air or Pro, or any other accompanying smart device, the Ridge Stand helps organize your workspace and is also easily transportable. The stand weighs only 430 grams or 15.1 ounces, including its case, which means you can take it anywhere – to work, coffee shop, park, airplane, etc. It can be packed along the Macbook or iPad on a long trip.
The stand is made out of aluminum alloy, with added rubber buffers to help grip and protect your laptop or device. To reduce the mess coming from all those cables, there is a five-channel chord organizer to handle all the extras connected to laptops and devices. The Ridge Stand also provides some safety to your devices as it keeps them "high and dry". No matter how many cups of coffee do you pour over at your desk – your laptop is above this with Ridge.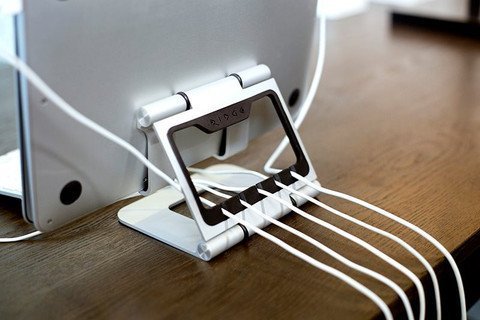 The Ridge Stand supports your MacBook by tilting your keyboard forward for ergonomic convenience while you work and folds up easily for use on the go. While the device has an Appleish design and is marketed as being a portable MacBook raiser stand, you should have no problems using it with any other brands and models of laptops and tablets. The system can sustain 1.5 kilograms and comes in 3 colors of your choice. Of course, it can be used with other tablets as well.
Source: BitemyApple