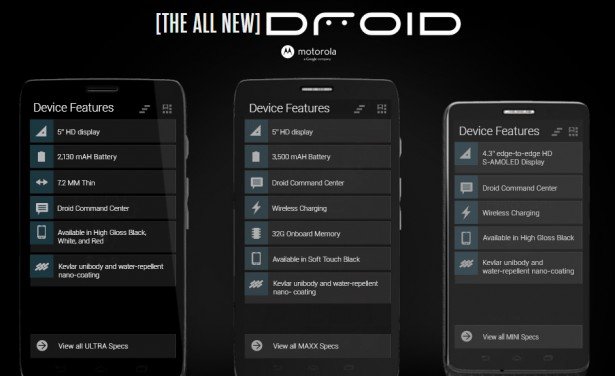 Verizon presents the $99 Motorola Droid Mini, $199 Droid Ultra, and the $299 Droid Maxx at an event in New York.
The biggest success will most likely be the Droid Ultra, making it the thinnest 4G LTE mobile. It will have a 7.18mm thick chassis. The 5-inch 720p display will make the screen a major hit.
The Droid Maxx is the latest Motorola smartphone for those seeking longer battery life. It is very similar to the Ultra, except a bit thicker at 8.5mm, and for the power-conscious users, the battery life contains 48 hours of usage.
For a more simple smartphone, the Droid Mini is the same as the Ultra, just slightly smaller in size. The screen is 4.3-inches.
In all three smartphones, Motorola introduces the X8 mobile computing system. This system has a dual-core CPU with an 8-core system, and will use more cores for sharing power to graphics processing, language system and more. This computing system also contains touchless devices, such as asking for directions without using your hands.
All the mobiles will be hitting stores on August 20. No additional details have been made public. Motorola and Verizon are being very secretive and have not released hardware information or more details about the X8.