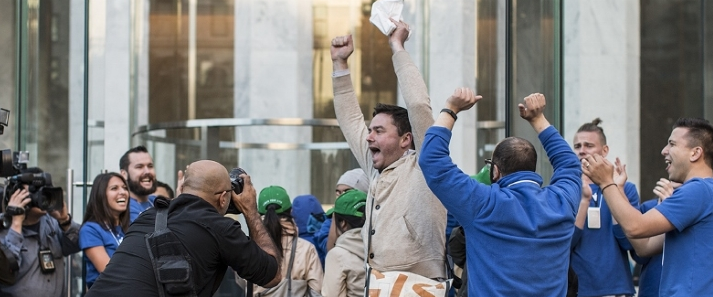 Thousands of people all across the world have been lining up for the latest Apple iPhone.
Eager Apple fans turned out in the masses to be among the first people to experience the new iPhone 6 and iPhone 6 Plus.
This year, Apple was expecting a much bigger turn out than last year due to the overwhelming number of pre-orders which almost shut down the company's website.
The line for the flagship New York City store had a line around the entire block and the lady at the head of the line said she had been standing there for 19 days as part of a viral promotion.
Another long standing line patron said they had been camping out for two days but would never do it again.
"I wanted to see how it felt to do this, said Alex Zazulin. The experience was "horrible and uncomfortable." He further stated that he would never do it again.
The glass doors to the famous Apple Cube opened at 8am as patrons rushed in to get their hands on the iPhone 6 plus.
"It feels amazingly light," stated Andreas Gibson, the first person to receive the new iPhone 6 Plus from the New York Store. "I wasn't sure if I was going to like the big size, but I love it. So excited right now."