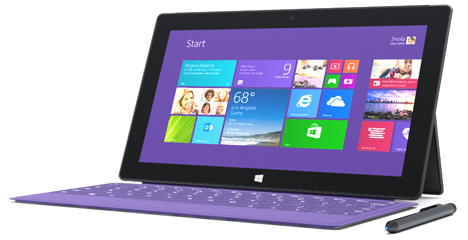 Microsoft has just unveiled their new Surface Pro Tablet 3 which the company states, could replace your laptop.
The device is expected to go sale on Wednesday and will retail starting at $799, a hefty price tag for a tablet however, it comes equipped with an Intel Core i3, Core i5 or Core i7 processor.
While many speculated that Microsoft was going to release a smaller mini style tablet in order to compete with the iPad mini, the company went the other way, debuting a larger 12 inch screen.
While it is bigger, the new tablet is much lighter and thinner and has a 2160 by 1440 display which provides the highest contrast ratios in the industry.
During the presentation of the new Surface, Panos Panay, head of Microsoft's Surface division actually dropped the tablet on the floor to show just how durable it was.
Panay also compared the tablet to the Macbook Air saying that although Surface had a smaller screen it allowed for 6 percent more content on the display than the Apple laptop.
"96 percent of people with iPads also have a laptop, there is a reason for that," stated Panay. "Tablets are good for kicking back and watching movies or using apps, while laptops are designed to get stuff done," he continued. However, Microsoft is aiming to close that gap with the new Surface.
One of the ways the new Surface is doing that is by allowing for a kickstand which lets the tablet recline further than before, and a new type cover which has been revamped to adhere to the screen. There is also a pen for the Surface that allows you to write directly onto the tablet without any other accessories.
While Microsoft has struggled to make a name for themselves in the tablet market, it seems that this new Surface is definitely something unique.