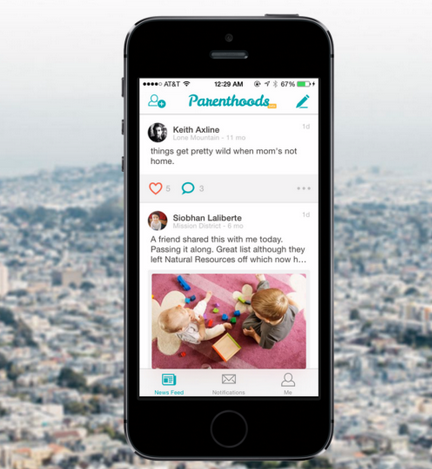 Parenthoods, a social network targeted exclusively for parents has just received $1.32 million in funding.
San-Francisco based startup, Parenthoods has just raised an initial $1.32 million to help create a mobile social network for parents.
The intention behind the app is to connect millennial parents who like to use Instagram and Facebook, with other parents in the local area.
The app will allow users to connect with other moms and dads and will even allow the option to schedule playdates. The app will also feature a support section so fellow parents can ask and exchange advice.
Parenthoods is the brain child of Siobhan Quinn, a former Foursquare and Google product manager and Jeni Axline, a director of production at Say Media. Axline had the idea when she became a parent herself and together the female entrepreneurs set out to make the app a reality.
Parenthoods launched earlier this year and currently has just a few hundred users however, Quinn and Axline hope with this funding that they can expand their user base. They also want to include options for meetups, parties, clothing swaps and more.
Parenthoods is now available to download at the iTunes store.