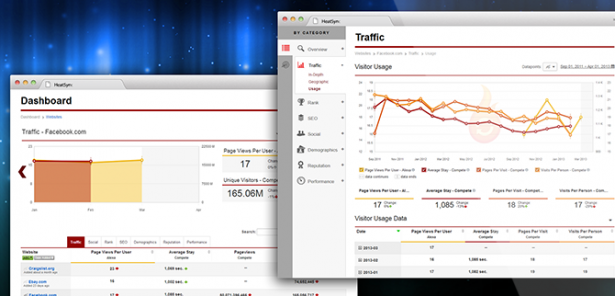 One Analytics Platform To Rule Them All.
The recently launched HeatSync is a cloud-based web analytics platform that marks a real departure from the existing tools that web developers, bloggers, and affiliate marketers already use to gather and analyze metric data about their websites. What puts them ahead is their potential to decrease how many other products the consumer is forced to rely upon.
Whereas previous methods of gathering metrics involved separate sessions in which a user would have to visit all the industry standard sites to use their tools, like Alexa, Compete, SEOmoz, Klout, and more, the folks over at HeatSync are offering a next generation tool that pulls this data from all of these sources and arranges it for the user. One can choose a variety of ways to view the data, including graphs that compare a particular metric between two or more of their tracked sites.
This makes for a vast reduction in the time people will be spending on their analytics. What used to require visiting anywhere from 5-10 different sites can now be accomplished in one single visit to www.heatsync.com.  It allows users to save any number of sites that they would regularly want to track, so that they can check up on all their most commonly analyzed sites seconds after logging in.
HeatSync  presents an in-depth detailed view into all aspects of a website, ranging from traffic metrics, social statistics, website reputation, and even website uptime and performance. Traffic can be analyzed in detail, to give insights into the characteristics of a site's visitors. Everything from age, gender, geographical location, and even income are reported on.
HeatSync is currently in Beta, giving its already sizable user-base an opportunity to use its service for free while it gears up for final release. This could be a great time to get in on the ground floor and learn how to use what will undoubtedly become an industry standard for web analytic tools.