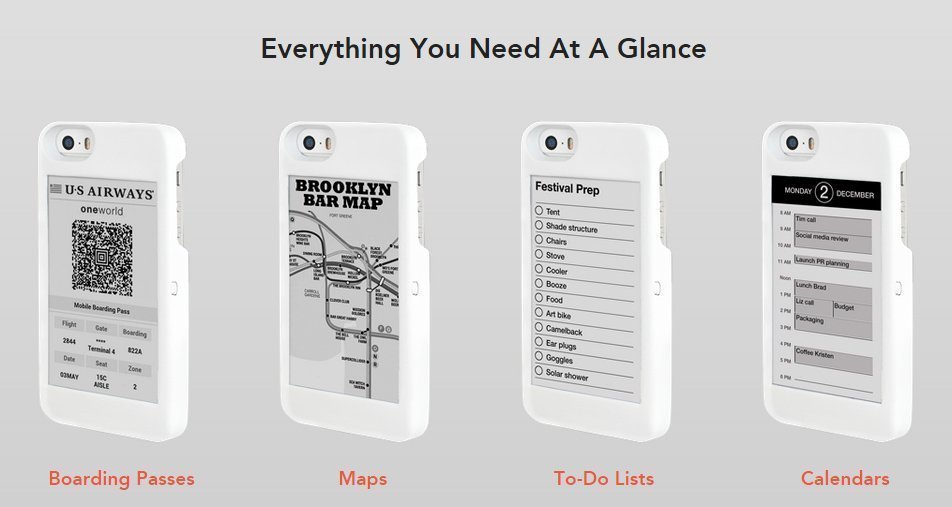 We've seen quite a few iPhone cases, but perhaps none as good as the one we'll be talking about in this space. While we've seen cases that add some space for keeping your credit card (so that you can lose both of them together) or others that offer extra battery juice or even act as antennas, we've never come across one like the new e-ink case from popSLATE. The case essentially adds a second screen to your iPhone. Who needs a YotaPhone when a case can practically serve the same purpose?
popSLATE's e-ink case was successfully funded on Indiegogo. The case offers an e-ink 4 inch display on the backside of your iPhone. Since e-ink technology consumes very little power when compared to the conventional LCDs on modern smartphones, the secondary screen can stay on always, while draining your iPhone battery only by a fraction. The screen allows you to put anything on it, including pictures clicked by the camera on your phone, images from the web, screenshots, or photos from social websites. You can even setup a slideshow in case you wish to have more than one picture.
You can do a lot more than just using the secondary screen for your photos of course. The case allows you to read e-books (goodbye Kindle), see your notes, maps or score updates. The possibilities are endless depending upon what the developers intend to do with the open API. The case interacts with the phone using Bluetooth.
And what good is a case if cannot protect your precious iPhone? The e-ink case excels at that too, offering a solid overall protection for your phone. The screen is nearly indestructible, so you don't have to worry about two screens cracking when you accidentaly drop your phone.
E-ink case from popSLATE is now available for iPhone 5/5s and 6 in black and white color options.