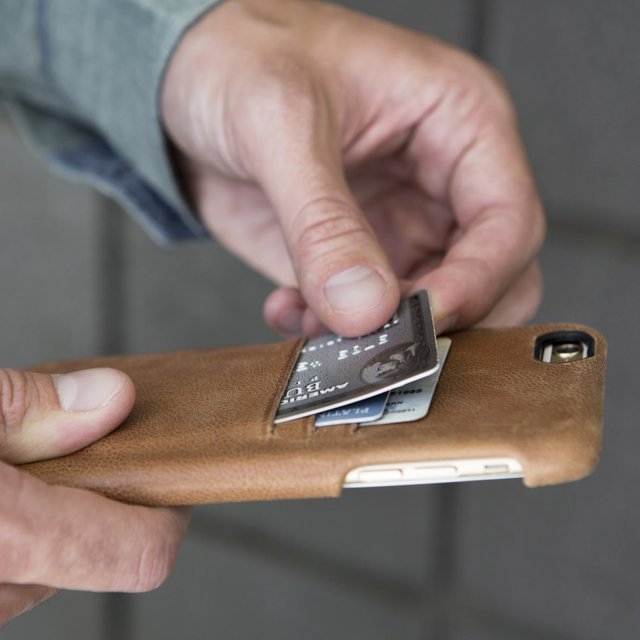 The Solo Wallet for iPhone 6/ 6 Plus is an exercise in simplicity of innovation. Solo Wallet is a genuine leather shell case, with two card slots on the back (3 slots for iPhone 6 Plus). The case leaves the bottom and top of the iPhone 6 mostly exposed, and offers no button coverage. It is a very simple wallet that should appeal to those who want a no-frills iPhone leather case that is stylish and holds a few essential cards at the same time.
We've all gifted a leather wallet to someone. Why shouldn't his iPhone case be just as classy? Usually when we write about wallet cases, we have women in mind. We like cases that allow us to tuck our necessities inside for a night out on the town. Men prefer not to carry such bulk, since the phone usually goes in their pockets. With Hex's Solo, virtually no bulk is added, and this product offers a classy solution to tucking your essentials into one slim profile.
The case has a genuine premium leather covering.  This leather is designed to wear and distress with use creating a unique aged patina. The fact that the leather comes in black, "British tan," olive crocodile, rustic brown and "Torino red" makes us think that men could carry this case to far trendier establishments.
By incorporating a camera hole and adding integrated card slots, the creators have produced a new standard for efficiency and convenience. The slots are designed to hold a single credit card each but you can also use it for storing a few loose bills as well.
Now you can have everything you need for your digital life in one slim solution. Smart.
Source: TheGadgetFlow