iLuv's Layup case for the iPhone 6 Plus offers a solid dual layer protection to your phone. The outer layer is made from soft, shock-absorbing silicone while the inner layer is constructed from hard, impact-resistant polycarbonate. The front of the case is designed with a raised edge that keeps your phone's screen from touching surfaces even if it is placed or dropped face down, so there are no more shattered screens. This combination of features provides superior protection against drops, impacts and other accidents. It even has a textured casing that prevents dust build up.
The iLuv iPhone 6 Plus 5.5″ Layup Case is different than the rest of the lot thanks to its built-in stand that props up the iPhone 6 for comfortable landscape viewing. Layup converts into a stand so that you can type or watch movies and videos on your iPhone in comfort. Simply pull out the built-in stand and prop up your iPhone to enjoy.
The case is designed to fit the handset perfectly while leaving all ports and controls accessible. Head out with your iPhone 6 Plus without worrying about damaging it from scratches, bumps and drops. Whether you're agonized over your iPhone 6 Plus curving, its lustrous 5.5-inch screen getting scratched, or you simply know you're an aggregate clod, with Layup, you can rest assured that your phone is secure.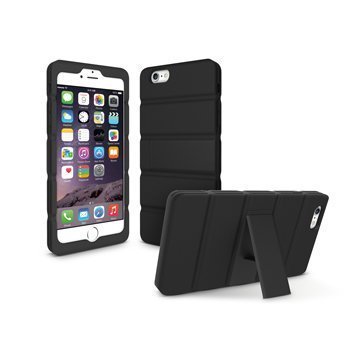 Source: TheGadgetFlow