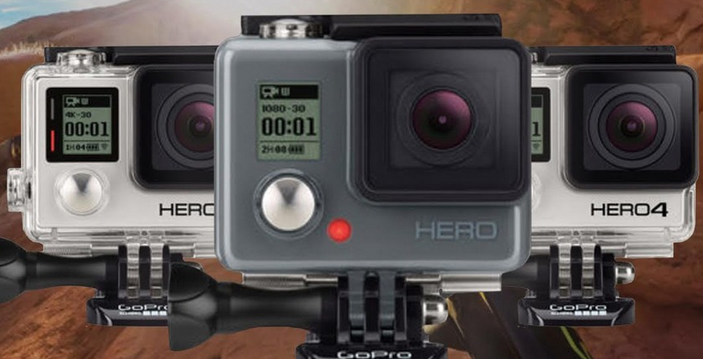 GoPro's stock has reached record highs today after the company updates their selection of cameras.
GoPro will roll out three cameras, an entry level GoPro Hero for $130, a Hero4 Silver for $400 and a Hero4 Black for $500.
The devices are expected to be launched on October 5th, 2014.
Both the Hero4 models will feature touch screen displays and be able to shoot low light and night images.
The cameras are also Wi-Fi compatible and are waterproof up to 40 meters.
The key differences between the two Hero4 models is that the Silver does not have 4K video capabilities and only shoots 1080p HD at 60 fps.
The Black model is able to shoot 4K and 30 fps, it can also shoot 2.7 K video at 50 fps and 1080p video at 120 fps. It also has a powerful processor and can shoot 12 megapixel stills at 30 fps.
The only draw back with the new GoPro's is that they offer just 3 hours of battery life – not great if you are out in the wilderness.
Regardless, after the announcement, the company's stocks sky-rocketing to an all time high of $87.07 which is up a whopping 263% since when it first hit the market back in June.