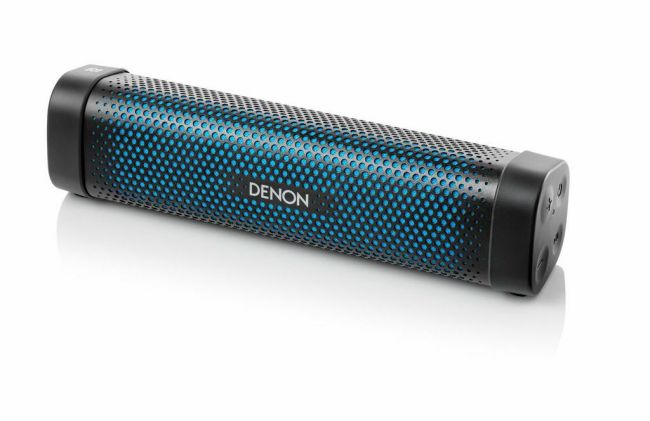 Denon has tried its hand at Bluetooth speakers before, but the new Envaya range is a serious foray into the segment. The smaller (and less expensive) of the two new Envayas is the DSB-100, also known as the Envaya Mini.
The Envaya Mini DSB-100 features two 40mm full-range drivers and a passive radiator, which help the device get loud. Audio input is either via a 3.5mm stereo cable or Bluetooth, which also supports A2DP and AptX. It weighs 508g, which is surprisingly heavy for something this small and slim. The box includes a charging cable and carrying case.
In terms of design, the Envaya Mini is gorgeous. It's encased in a dotted metal grille over a fabric coating. There are two colour options – black metal with blue fabric, and white metal with orange fabric. The circular grille effect is a nice addition, making the Envaya Mini a very visually distinctive Bluetooth speaker.
On the left end of the speaker you'll find a micro-USB charging port and 3.5mm input port hidden under a rubber door, as well as a battery indicator LED. NFC is also on hand for quicker connectivity. NFC pairing also means that you can simply tap to pair a compatible smart phone—there's no button pressing, no manual pairing, and no waiting for your device to be "discovered". AptX support offers CD quality audio streaming over Bluetooth as well, so no need to worry about a loss of quality when not using a wired input.
On the right-hand side is where you'll find all of the controls including two volume buttons, play/pause and the power button. While all of the other buttons are inverted it's nice to see that the volume increase is actually everted. As mentioned, the micro-USB and AUX input are covered by a rubber door, and this is to protect them from water – yes, the Envaya Mini is water-resistant.
Anyone who owns a smartphone or tablet would probably enjoy owning a Bluetooth speaker. Portable Bluetooth speakers have a rechargeable battery that lets you take them anywhere, from the beach to camping to the backyard cookout. Although it has a couple of minor annoyances such as the battery life, omission of auto power-off and the slightly under estimated incline, the speaker more than makes up for this in other areas. This mini version lives up to the Envya family name in pretty much every aspect. Don't be deceived by its small exterior as this portable speaker delivers great quality audio as well as packing a punch when it comes to the volume.
Source: PC Advisor