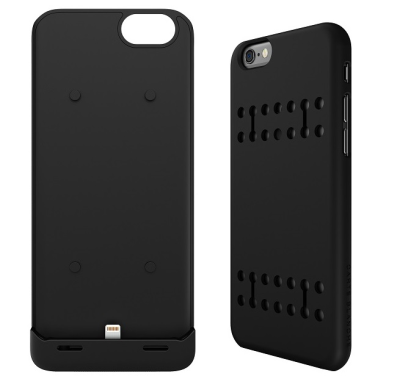 The iPhone 6/6 Plus charging cases are arriving, and Boostcase has returned with its modular design, offering additional battery life when you want it, and a slim protective shell when you don't. It's a clever take on the usual static bulky mass, and it does what it promises to, extending your device's battery life for those times when you need your smartphone to outlast a normal day's worth of use.
The Boostcase is a two-piece design that includes a stylishly ultra-thin snap case with a battery sleeve that you can attach in a single click. The iPhone 6 model comes in a 2200 mAh or 2700 mAh option, with the iPhone 6 Plus model available in 2700 mAh or 4500 mAh versions. The cover comes with a dedicated toggle-switch to turn your battery on and off and a LED light bar indicator that shows remaining battery level.
This case is smooth and slick, and it's actually quite pleasant to hold. However, the slippery feel of this case can make it a little hard to grip. Nevertheless, the case itself works just as it should, and the colourful case options (available in 6 colours) are a breath of fresh air in a battery case marketplace that's often monochromatic.
The Boostcase for iPhone 6/6 Plus is a smart take on the standard battery backup accessory design, with a unique feature that's actually practical and well-executed.
Source: PCMag