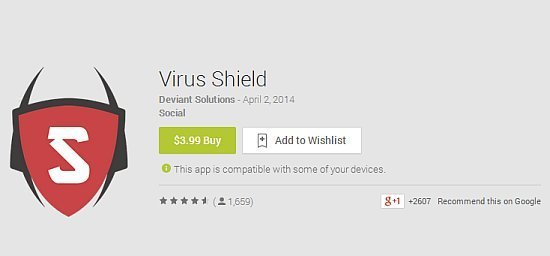 A top paid virus protection app has turned out to be a scam, falsely misleading consumers to believe that their phones were protected.
Virus Shield, which has now been pulled down from the Google Play Store, launched a week ago for $3.99 and quickly became a best seller.
The app was supposed to prevent harmful apps from being installed, scan apps for malware and protect your personal information. It also had no ads, no permissions and had low impact on battery life.
While thousands downloaded the protection software, it wasn't until users started paying attention that they noticed that the app actually did not do anything.
Users who analysed the source code of the app learned that all it did was change an icon that stated your phone was insecure but now protected.
After news spread about the app, Google quickly pulled it down from the app store however it is not clear whether customers will be offered a refund.
Chris DiBona, Director of Open Source at Google stated,  "yes, virus companies are playing on your fears to try to sell you BS protection software for Android, RIM and IOS. They are charlatans and scammers. If you work for a company selling virus protection for android, rim or IOS you should be ashamed of yourself."
While Virus Shield has been pinpointed as preying on people's fears it is not the only app out there that is misleading.