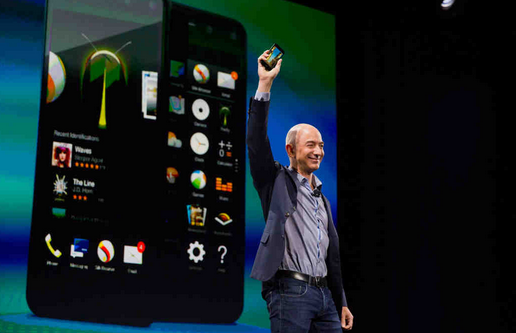 It wasn't too hard to guess that Amazon was in the works of releasing their own smartphone but it seems that this new gadget offers a lot more than a fancy 3D screen and high end camera.
It seemed only a natural step for the e-commerce giant to release a smartphone after the success of their tablets but the new Fire phone is more than just a phone, it's a one stop shop for all your needs.
And we don't say shop lightly.
The phone is literally like a gateway to the world of Amazon Prime. If you are not familiar with Prime, it basically is a one year, $99 membership that allows you to purchase most things on the site for free two day shipping.
Prime is popular, but what Amazon loves so much about it is that Prime customers spend nearly 50 percent more than regular customers resulting in over $13 billion in additional yearly revenue.
So, how does this relate to the phone?
The most original feature of the Fire Phone is it's 3D screen which gives viewers a dynamic visual perspective when using some apps. The camera is also a great at 13 megapixels, and the phone comes with a 2.2 GHz processor, unlimited Amazon cloud storage and 24/7 access to Amazons MayDay customer service center. But, the most lucrative feature of the phone is their 'Firefly' button.
Here is how Prime and the Fire Phone meet- Firefly is a magical button that allows you to take an image or record audio of an item around the home. The phone then profiles the image or recognizes the audio and places that product into your Amazon Prime shopping cart.
So, say you are low on toilet paper. All you would have to do is snap a pic using Firefly and some would be on it's way to you.
The phone also comes with a free Prime membership for one year and also offers a free yearly extension for those who already have Prime, meaning that there would be no additional shipping costs for anything purchased using Firefly.
The strategy seems obvious, get people to buy the phone, get them addicted to Prime and rake in the dollars.
In terms of pricing, the Fire phone is quite reasonable, retailing for $199 with a two year contract on AT&T. Plus, users also get access to Amazon's library of music and books, and don't forget that free Prime membership worth $99.
So it all seems like a good deal for consumers and Amazon who could potentially increase Prime customers and revenue but what is the real catch?
While Prime is a great strategy for Amazon and consumers alike, the service has also allowed the company to come down hard on suppliers and book publishers in terms of pricing.
Amazon is working hard to drive out the competition, and as it's growing in popularity the company shows no signs of letting up.