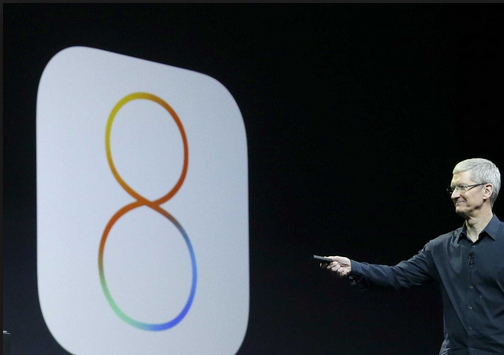 It was a big day for Apple yesterday as the company rolled out not just their latest iPhone 6 models but also their new iWatch and their new operating system.
While the latest design of the new iPhone has drawn in a lot of attention, all Apple users can look forward to the latest updates and we have the top 8 most incredible features of iOS 8.
1.) QuickType: Even though funny autocorrect fails have provided hours of entertainment across the web, Apple has now updated their keyboard to bring you automated responses to text messages and emails. The more you use QuickType, the more it will remember and learn what you usually type. This feature also allows the integration of third-party keyboard apps such as Swype.
2.) Spotlight Search: Searching on Spotlight has never been easier as now the search bar will allow you to go directly to web pages, maps and more. Before, Spotlight allowed you to search what was just within your phone, but now it's open to the entire internet.
3.) Health App: The highly anticipated app will allow you to collate all your health data into one place including fitness, diet, sleep, medication and more. The app is compatible with both Fitbit, Nike+ and Apple's own iWatch.
4.) Siri Meets Shazam: Siri and Shazam have teamed up in order to help you find songs quicker and faster. Siri can also be activated by simply saying "Hey Siri" rather than holding down the home button. She is also now fluent in 22 languages.
5.) Text without Opening Messages: Now when a text notification pops up on the top of your screen you can reply instantly from there rather than being re-directed to the Messenger app. To reply, simply swipe down the banner and type or send a voice note. The same will apply to notifications from Twitter and Facebook.
6.) Photo App: Apple has upgraded the Photos app to allow you to edit, adjust lighting, add filters and play with the color saturation. There is also an option for you to "like" your own photos which will make them appear on your synced Apple devices.
7.) Wi-Fi Calling: Just like iMessage allows you to send texts over Wi-Fi, calls will soon be the same. Currently the feature is only available on T-Mobile.
8.) Coordinate: iOS 8 users can now sync their phones with up to 6 family members so they can share calendars, apps, music, books and more all on the same credit card. Photo streams can also be synced and there is an option that will request parents permission before apps are downloaded.