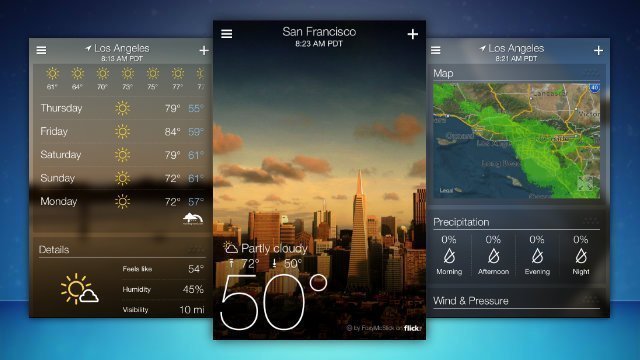 Yahoo's award winning weather app has finally been made available to Apple users. 
Yahoo's weather app has been available only on Android phones up until recently when they released an iOS version.
The app has been so well designed that Apple awarded the app with a design award.
The app uses Flickr sourced images on the background of their app as well as animated backgrounds from the city that you are looking at. Yahoo also encourages users to submit their own photos to be used by the app.
The weather app constantly updates photos depending on the weather so users can see first hand exactly what the weather looks like as well as the statistics such as the current conditions, a 24 hour overlook and a more detailed forecast.
Yahoo also added a sharing feature that allows users to connect with colleagues, friends and family by sending weather condition photos through text, twitter, email or facebook.
The Yahoo weather app is currently free for iPad users and can be downloaded from the Apple store.