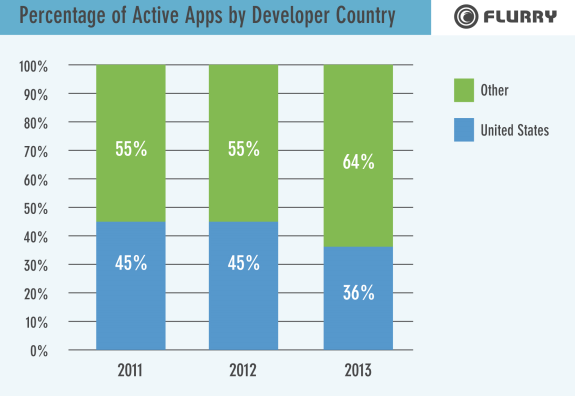 U.S. Is Losing Ground In App Market
The mobile global wide app market is changing rapidly and the U.S. is losing ground. The U.S. may soon be losing it's edge, according to new findings from mobile analytics platform Flurry.
Flurry released this morning a report that the U.S. has slipped from 36 percent of the worldwide app market coming from 45 percent in 2011.
This is what the software industry looked like in 2008, where U.S. businesses produced around 68 percent of software units sold and then dropped off rapidly. The mobile app industry is becoming truly global in nature.
The U.S. app market does have something going for it, however – the apps it puts out are more engaging, and include more users, the report also found. When weighing apps by total time, taking into account user numbers and engagement, the U.S. still leads, though its percentage here as well has dropped from 75 percent to 70 percent from 2011 to 2013.