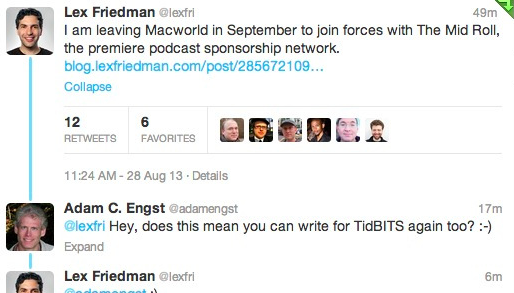 Twitter Tries To Humanize Timeline
In an effort to be more engaging Twitter has tried to make their timeline appear in what many people think to be to look more like Facebook.
The timeline looks more like a conversation now than it ever did before.
Twitter has also announced various other upcoming changes and things in the pipeline that they want to focus on fixing and simplifying.
This could be a good strategic move for Twitter to get more engaging and focus less on trying to get celebrities to validate their identity, and other useless things that they have been known to focus on.
As far as what Costolo says that Twitter is missing, he says "simplicity". "Bridging the gap between the awareness of what Twitter is and…going in and understanding what it is right away."

That gap is what happens when you have people who are deeply invested in a platform, and others who find the complex jargon and mechanics of Twitter confusing. Costolo specifically called out the 'period before a user name' behavior when you want a reply to be seen by all as confusing. "Because of the 140 character constraint, users have created this remarkable language for communication," he says.

"Public real-time conversational distributed" is where Twitter wants to 'enhance its abilities'. That's where Costolo says that they're spending almost all of their time. This is one of the reasons that Costolo says that they haven't put a lot of time into private group chat." said CEO Dick Costolo.