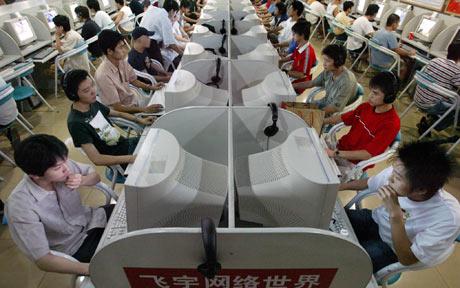 The internet is not so free in other parts of the world as reports come in that China is blocking ten of the biggest sites online today.
While it has been widely known for some time that certain countries, including China, block and control internet access, it seems that the laws are just getting stricter.
Over 2 million people have been employed by the Chinese government to monitor activity on blogs, social media and search engine sites following the Tiananmen Square Massacre.
The massacre occurred 25 years ago and started as students protested over the restrictions to online media and internet censorship. The protests turned violent and since then, the Chinese government have become even more forceful about limiting information.
The websites that the Chinese government are mainly restricting and blocking include:
1.) Google: known as the gateway to the internet, Google is completely blocked, including its map service, picasa photo program, calendar application and YouTube services.
After news of the block surfaced, Google released statistics that showed traffic in China was reduced to "less than half of the country's usual overall share of worldwide users."
A spokesperson from Google continued- ""We've checked extensively and there are no technical problems on our side."
2.) Wikipedia: the Chinese government has long blocked Wikipedia pages including the Dalai Lama's page and the Tibetan Independence Movement.
3.) The Wall Street Journal: Dow Jones, who publishes the journal stated that the Chinese language site had been blocked since last week, probably due to the fact that the anniversary of the massacre was looming.
4.) Pornography sites: More than 97 percent of pornographic sites are blocked in China however this is nothing new as the country has been blocking videos and magazines for the last 60 years.
5.) LinkedIn: while it seems harmless to many, China has decided to block the professional networking site earlier this year. A new, Chinese version has been set up to replace it and is accessible only in China.
6.) Facebook: blocking this social media site has been a huge issue for China as many protest and find other ways to access the site. China maintains that the site is blocked to avoid "spreading rumors" and then came up with its own version called Weibo which can be more readily censored if needed.
8.) Twitter: While there is some access to Twitter in China, many users report not being able to use the surface to it's fullest. Many accounts are censored and blocked from access.
9.) IMDb: many accounts have been deleted and blocked by Chinese servers that have been deemed to be "harmful information."
10.) Skype: while the site has not been shut down completely, rumors were surfacing that access was being severely restricted in other provinces outside Shanghai.