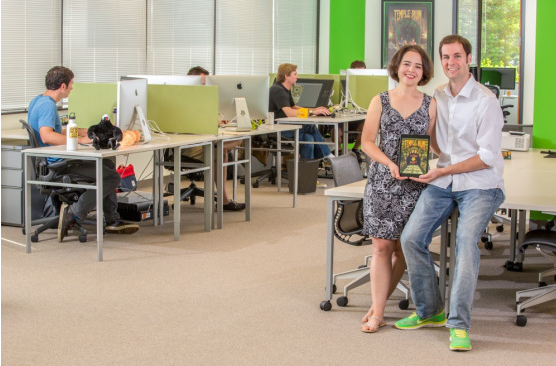 The mobile game, Temple Run has just reached over 1 billion downloads making it one of the most successful app games.
Produced by Imangi Studios, Temple Run has announced that it has reached over 1 billion downloads since it was launched back in August of 2011.
Since it's release, the company has also created multiple versions of the game and it appears that gamers keep coming back for more Temple Run.
The game had humble beginnings, it was built by just three people and entered a competitive industry with over 1.2 million active apps to compete with. Despite all the odds, the popularity of the game surged and now the small 11 employee team are being pressured to make it into a franchise.
Turning a popular mobile game into a franchise is a tricky business. Games always go in "popularity phases" and that was something Angry Birds experienced. Although Angry Birds is now a global brand, user popularity has been declining and investors are worried.
What makes Temple Run so popular and addictive, is that it relies on the "endless runner" gaming concept which means that the character is constantly running towards the horizon. By simply swiping the screen you can make the character turn left or right and jump.
The character is chased by monkeys and other creatures as it collects coins and uncovers artefacts.  Although this game model is super simple, it works and is incredibly addictive.
The proof is in the stats- Temple Run announced that over 50 trillion meters had been run, 32 billion deaths had occurred, 1467 trillion coins collected and over 216,018 total years played.
"It snuck up on us a bit," said Keith Shepherd, cofounder of Imangi Studios, in an interview. "It's kind of crazy….It's changed so many things for us. It's opened up cool opportunities. Over the past three years, we've spent a lot of effort on Temple Run. We created a sequel. We worked with Disney twice, doing Temple Run Brave and Temple Run Oz. We started this worldwide licensing and merchandise program. We have arcade machines and apparel and plush toys and board games. It's been an amazing ride."
When asked if Temple Run has plans to be a huge gaming franchise, Shepherd remains ambiguous, "we decided we wanted to keep working on Temple Run and keep our fans engaged."