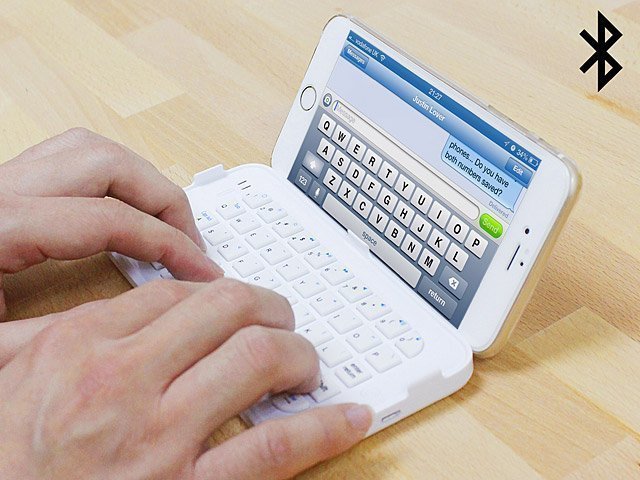 With the advent of 'the touch phone' and the 'smart technology', most of us have forgotten how it felt using the good old keyboard anymore. Nevertheless, for all of you out there, the proud owners of iPhone 6 Plus, you understand best if there's any phone that needs its own Bluetooth keyboard case, it has got to be the iPhone 6 Plus. Fortunately, here is a keypad designed precisely for your needs.
The iPhone 6 Plus Ultra-thin Bluetooth Keyboard is a small console that ties to the proportions of the iPhone 6 Plus thus making it a keyboard cum protective cover. The keyboard turns on the back of the phone and when not in use, you can flip the keyboard over it. This way, the keypad doubles as a screen cover.
The keyboard comes with an additional fold out stand on which the phone can rest. This helps you view your videos or read your articles at a comfortable angle. For those who are worried about the size of the keys, rest assured. The keyboard features just five rows of keys with all the basics covered so that individual keys are big enough for convenient use. There is also a slide to place your phone at an appropriate position up when you are typing.
One of the best features of this Bluetooth keyboard is that it is extremely handy and easily portable. You can carry it with your phone on the go, use it as a stand, or make a protective case out of it. The keyboard provides multiple functionalities for the user to use it the way they like.
The case has a rechargeable battery and a Micro USB port for charging. It might add slight amount of chunkiness to the iPhone 6 Plus, but it offers the perfect amalgamation of efficiency and handiness for those who like to travel light.