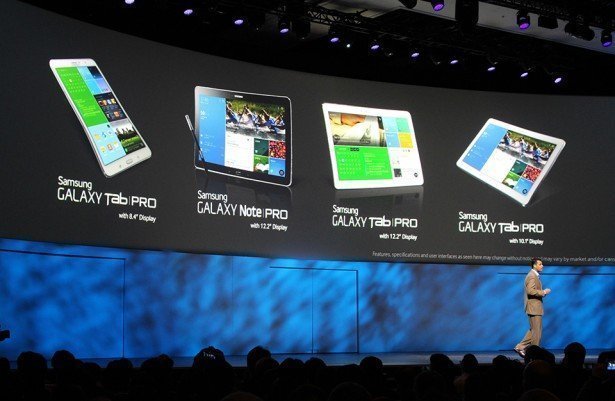 Rumors have been flying that Apple may release an iPad Pro and rival Samsung wasted no time, releasing four new high-end tablets designed for the professional market.
Called the Galaxy NotePRO and Galaxy TabPRO, they both come with varying screen sizes with the largest being 12.2 inches and the smallest being 8.4 inches.
The only difference between the two tablets is that the NotePRO comes with a stylus pen designed by Samsung, known as the S Pen. The Pen allows you to take notes on the tablet so you can draw on the screen.
The PRO tablets are based on the latest Android operating system called KitKat and are also laden with extra features designed by Samsung including tailoring the home page and a remote that allows you to access your computer from the tablet.
The tablets even allow you to drag and drop files to and from the computer.
Samsung has also equipped the devices with a free LinkedIn Premium account, a free subscription to Bloomberg Businessweek and extra storage on Dropbox.
The tablets are supposed to be the fastest yet, running on octa-core processors.
Samsung has announced that the tablets will be launched early this year but they have not yet offered would-be-buyers a price range.