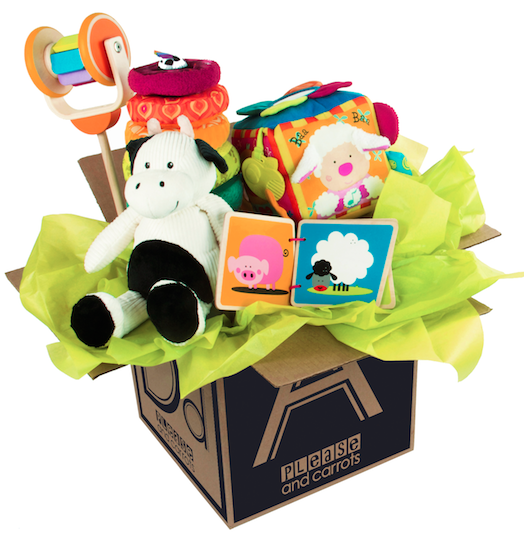 Please and Carrots is a new subscription based service that sends a quarterly box of developmental toys for children.
Please and Carrots is a subscription based service designed to send developmentally approved toys for children aged 0-3 every four months.
The items in the box have all been curated and approved by top child psychologists and educators and promise to be the best when it comes to developmental learning.
The company was founded by Stephanie Chan, former VP of Consumer Marketing at InStyle and StyleWatch and first time mom, and Silpha Barchha, a former banker and consultant.
Chan explains that when she had children for the first time she struggled to choose toys due to the sheer number of options. She then had the idea to create a service that is simplified for parents and carries only the best toys.
The subscription service not only delivers a box of toys but also has a members forum that provides additional guidance and insight into early childhood development.
The forum is run by Dr. Susan Bartell, a nationally recognized child and parenting psychologist, Dr. Amanda Williford, a research professor, and Dr. Suzanne Kaseta, managing partner at a pediatric firm.
The startup hopes that the forum will grow to become like a WebMD for parents and children.
The boxes include 3-4 toys and 1 to 2 books and cost $120 per box. Parents can subscribe for a years supply at the discounted rate of $420.