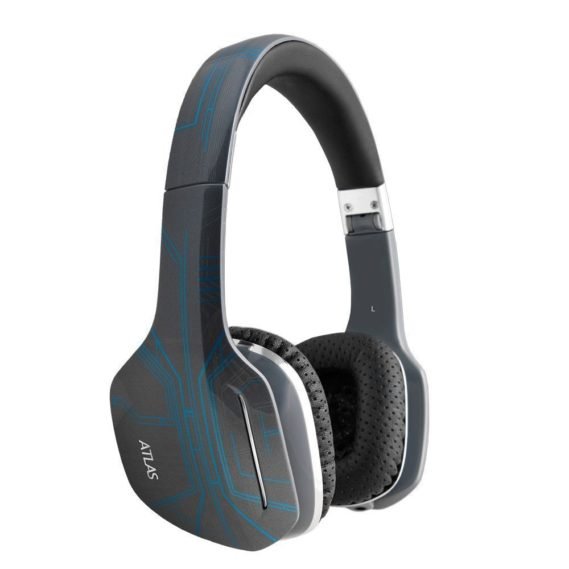 MEElectronics Atlas Orion IML Graphics On-Ear Headphones come with headset functionality and are particularly suited to rock and dance.
The GOOD:
The headphones come in classic Blue/White and Black/Red looks. The packaging is impressive. The set comes with a stylish drawstring bag for daily use.
The headphones come with a frequency response of 20 Hz to 20 Hz. MeElectronics rates the Atlas Orion's sensitivity at 113 dB @ 1KH and impedance at 32 Ohms. They provide excellent booming bass sound and are perfect for lovers of club music and hip hop.
The design is impeccable. The detachable cable features a flat design that's easy to use tangle-free. The volume control works pretty much with everything and the ventilated ear pads provide cushioning and excellent comfort. The cups are flexible and provide a great fit.
The MeElectronics Atlas comes with an adjustable headband that provides flexibility while working out. They're also compatible with a wide variety of devices, including the iPad, iPhone, iPod and Android phones such as the Galaxy S5 and HTC One.
The BAD:
Some users have complained that MEElectronics Atlas is too big to wear while working out. The cushioning of the ear pads may also get sweaty. So the MEElectronics Atlas might not be the perfect pair for those who are looking for a set of working out earphones.
Also, the Sound isolation isn't as good as other headphones. There is audio distortion if you listen at louder volumes.
The flaws aren't particularly severe, but experienced ears will notice the peculiarity. Nonetheless, the MEElectronics Atlas is a great piece for the cost. Certainly recommended.