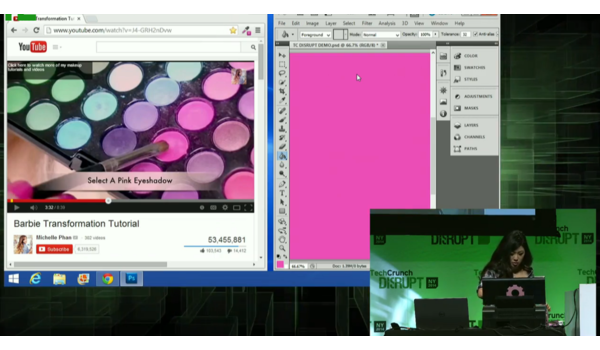 The emergence of 3D printing is closer than ever before and this revolutionary gadget is set to change our lives forever. A perfect example of this is Mink, a 3D printer that can take any image and transform it into a wearable cosmetic.
While Mink seems almost unfathomable, this little 3D printer uses existing software and a custom input color to print 3D blush, eye shadow, lip gloss, lipstick and more.
Founder of Mink, Grace Choi sourced the same substrate used in majority of the cosmetic products available in stores to create a service that tailor blends colors suited just to you.
Mink promises to be a real shake up for the cosmetic industry as it offers the convenience of not having to leave your home or waiting for shipping and it also allows you to chose the perfect color to match you skin tone.
While 3D printing is still expensive, Choi has announced plans to release Mink to the public for around $200. Making the cosmetics however will incur an  additional cost due to supplies needed but, Choi states that it will still be cheaper than purchasing cosmetics in stores or online.
"The make up industry makes a whole lot of money on a whole lot of bullshit," announced Choi. "They do this by charging a huge premium on one thing that technology provides for free, and that one thing is color."
Mink will be marketed mainly to girls aged 13 to 21 however if this type of technology takes off the demographic may be much larger.