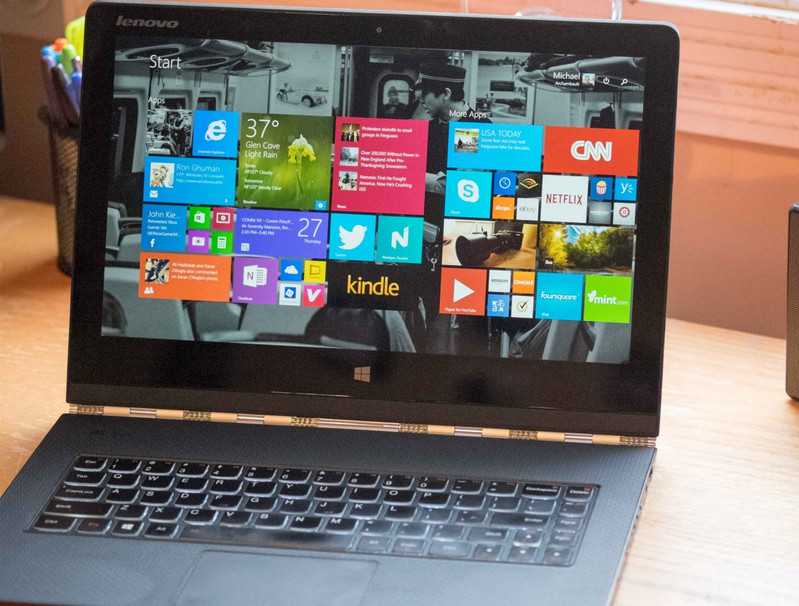 Lenovo has been creating quite a stir with their new IdeaPad Yoga 3 Pro with some claiming that it's the world best laptop.
The IdeaPad looks more like a tablet than a laptop but this seems to be the way of the future. The screen can fold back 360 degrees, allowing the user to utilize the machine in a number of ways.
Lenovo states that the Yoga can move into four different "poses"- tablet mode, stand mode, tent mode and laptop mode.
The hinge that the laptop pivots on is also revolutionary. Lenovo have ditched the traditional laptop hinge and gone instead with a watchband-like hinge. Its made from 815 individual pieces of aluminium and steel for strength and flexibility.
The Yoga 3 Pro is also a lot thinner and lighter than the previous model and weighs just 2.6 pounds. It also measures at less than half an inch.
The screen is 13 inches and boasts a quad HD display of 3200 x 1800. It may also be interesting to know that the screen has a higher DPI than the Macbook Pro.
Despite the fact that this laptop is so thin, it still has all the ports of connectivity on the right side of the unit. The tablet can house a USB port, a headphone jack and also has two volume control buttons, a rotation lock button, a OnKey recovery button and a LED lit power button.
The left side of the unit also houses a full SD card slot, a micro HDMI port, another USB port and a charging port. This is of course fairly impressive for a laptop that is so thin.
They keyboard is also spacious and the keys have good feedback. The touch screen is also easy to use and very accurate.
When it comes to the hardware, the Yoga 3 Pro runs on an Intel Core M Processor, has an Intel HD Graphics 5300, up to 8 GB of RAM and an SSD of 512 GB.
The device also has an impressive 7.2 hours of battery life.
Overall, Lenovo's Yoga 3 Pro is turning heads and offers some amazing specifications that are sure to become the way of the future.
The laptop starts at $1299 for the base model and goes up to $1499 for the top configured model.