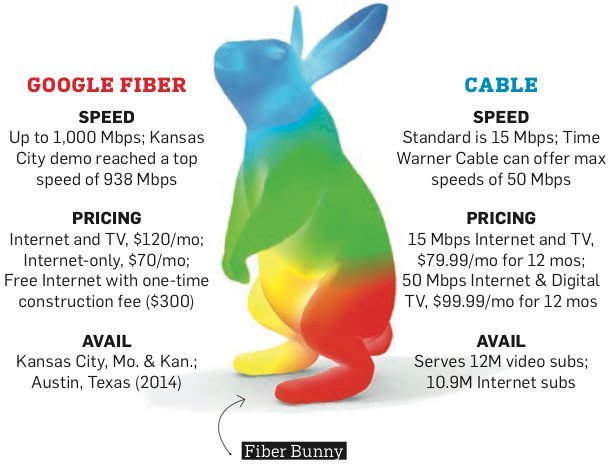 Sometimes it seems that Google just thinks of everything.
The tech giant had just announced that it is launching their own home internet service called Google Fiber and is inviting 33 cities across America to experience their super fast service.
Google Fiber promises to deliver gigabit speed downloads making it 100 times faster than the typical internet service currently offered.
"The future of the Internet will be built on gigabit speeds," said Google Fiber General Manager Kevin Lo in an interview. "We're going to do our part to help move the web forward."
Kansas City was the first town to experience Google's lightning fast internet speeds and charged users $70 per month for a 1-gigabit connection.
The service was installed in Kansas over two years ago and now Google is ready to expand, offering 33 cities including Portland, San Jose, Salt Lake City, Phoenix, San Antonio, Austin, Nashville, Charlotte, Atlanta and Raleigh-Durham, the service.
Google selected these cities from more than 1,000 applications that were submitted four years ago when they first announced their plans to create their own internet service.
"It would be great for our residents to have really fast Internet service," said San Jose Mayor Chuck Reed. "high-speed Internet access is one of the things we need for economic development. The U.S. generally is far behind other parts of the world."
If all 33 cities accept, Google could have access to nearly 10 percent of all US consumers which has got companies like AT&T worried. Apparently, AT&T has also started offering gigabit services in Austin and is set to expand to other cities soon.
Google is also believed to be adding an optional cable television package with the service. Currently, they have negotiated licensing rights to offer a package of channels which will be priced competitively.
While it is not clear how many people currently use Google Fiber, the move is definitely set to be a profitable side business for the tech giant.
Over the next few months, Google will be working with the chosen cities to create reports on housing density, topography, geology and current locations of utility poles and underground conduits.  Rather than installing their own poles or conduits, Google will pay to use the existing infrastructure.