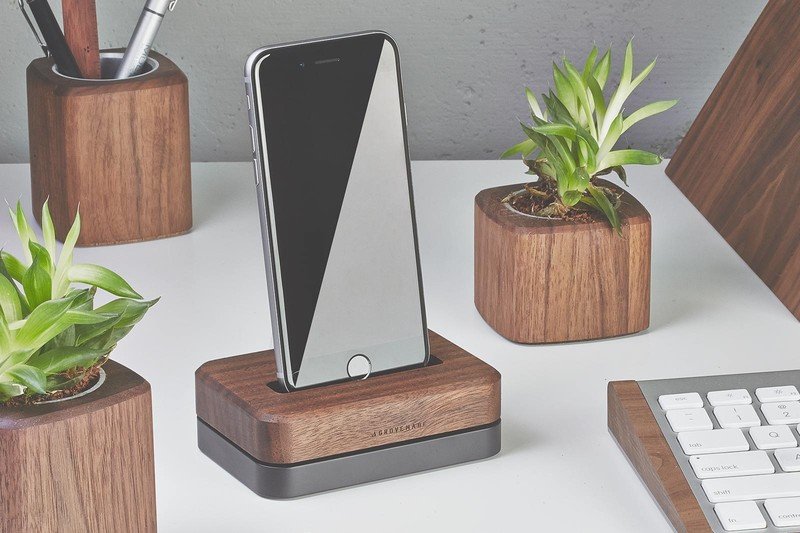 If you're looking for something that's a step up from the regular iPhone docks out there, then you should take note of Grovemade's limited edition dock which happens to be no ordinary dock. Machined out of a solid block of radiant solid brass and finished with Oregon black walnut cap, this dock is a solid and impressive decor piece, which fits every desk.
Like the leather and wood iPhone cases, Grovemade's iPhone dock comes in two woods: walnut and maple. The walnut is a darker wood and the maple is a lighter wood. The dock is compatible with the iPhone 5/5s, iPhone 6 and 6 Plus.
Though the Maple iPhone Dock doesn't work with Grovemade's own Leather iPhone Case, it works with most other cases. The stand consists of three pieces: a steel base, a maple cover, and a plastic insert to hold a Lightning cable in place.
Weighing in at three pounds, the steel base of the dock feels solid and it's not going anywhere on a desk or table. Because of the weight, there's no shifting of the dock when you plug in or remove your iPhone, so it can be done one-handed. Underneath the base, there's a slot for the iPhone cable, and an opening where you pull the cable through. It's as practical as it is sophisticated—a hidden channel allows for audio to pass through the front of the dock, so there is no need to worry about a missed call or text.
With the maple cover on (held in place by a built-in magnet), the cable holder and the top part of the steel base are successfully concealed. Fully assembled, the dock's design is clean and it fits into many different décors thanks to its neutral colors. Grovemade even makes a whole range of desk accessories to match the dock.
It isn't often that a tech gadget can combine style, function and a sensibility for the environment, but this iPhone dock by Grovemade does just that. Each item is hand-filed, sanded and stained to bring out the beauty of its natural materials. Grovemade's walnut dock decoratively adorns Apple's devices and is an instant conversation piece.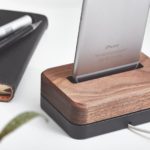 Source: T3