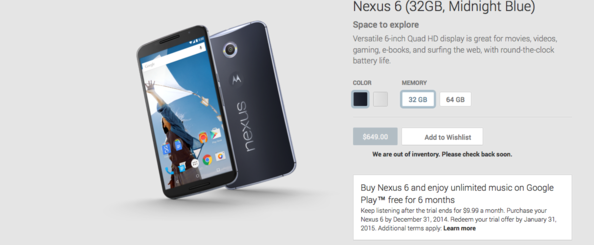 Just hours after Google's new Nexus 6 was launched, supplies were sold out.
The device launched on the Google Play store  in the US and sold out within hours leaving some very unhappy customers.
The new device starts at $649 for the 32GB model and $699 for the 64GB model making it one of the most expensive Nexus model to date, however that does not seem to have deterred customers.
This new pricing strategy was actually a tactic of Google's to offer more high end specifications in order to appeal to a broader market.
These specifications include a 13 megapixel rear facing camera, a 2 megapixel front facing camera, and 6 hours of battery life after just a 15 minute charge.
The phone is also available on the typical two year contract for just $199, which Hiroshi Lockheimer, vice president of engineering for Android believes will help drive sales.
There is no word from the company when new stock will arrive but those lucky customers that got in quick can expect to receive the device after the 3rd of November.