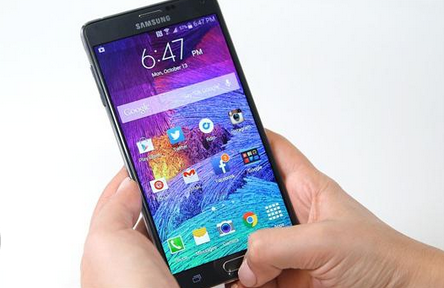 Flash back to 2011 when Samsung released their first ever Galaxy Note. At 5.3 inches critics said it was too big, but now the super successful smartphone, which has started a trend even for Apple, has just announced their latest model- The Galaxy Note 4. 
Samsung is planning to release their latest Galaxy Note 4 this week and all eyes are going to be on whether the new Note can eclipse the latest iPhone 6 Plus.
The Note 4 is destined to come with a sharper and larger display and a series of on-screen features that make the phone easy to use in just one hand such as a pop up menu, and icons that sit right under your thumb.
The phone will also be able to recharge its batteries to 100 percent in just one hour and will also come with the famed stylus, a fingerprint scanner and even a heart rate monitor.
In comparison to the iPhone 6 Plus, the Galaxy Note is around 5 millimeters shorter but around one millimeter wider and thicker. The Note also has a 6 percent bigger screen than the iPhone 6 Plus.
The Note 4's 2560×1440 pixel screen display is also rumored to be much better in color accuracy and clarity when compared to Apple's iPhone.
The iPhone 6 Plus, which launched a few weeks ago has sold multi-millions in stock around the world with China and the US leading the way however, now that the Note 4 is being released, it really remains to be seen what consumers will move towards.
When looking at previous trends, Apple tends to do the best in the US however, Samsung phones which operate on Android are much more successful in other parts of the world.
The Galaxy Note 4 is expected to go on sale this week and will retail for $300 with a two year contract.