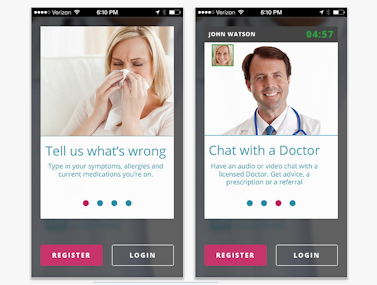 Forget waiting in the smelly, potentially infested doctors office, now the doctor can come to you by way of your smartphone thanks to the new startup app, Doctor on Demand. 
Doctor on Demand is a  video consultation app that has generated $3 million in funding from companies including Google Ventures and Athena Health.
The app will be designed to offer a virtual consult with a doctor for non-emergency medical questions or complications. Doctors will also be able to write you a prescription.
Each video call will cost just $40 and can be paid for by credit card, a health care spending account or a flexible spending account.
The app will be available on both android and iOS devices and will be available in 15 states including, California, Florida, Georgia, Illinois, Indiana, Michigan, Mississippi, New Jersey, New York, North Carolina, Ohio, Pennsylvania, Texas, Virginia and Washington.
Doctors on Demand was founded by CEO, Adam Jackson, Dr. Pat Basu- former White House doctor, Jay McGraw- Dr.Phil's son, Tom Daschle,- former senator and Jonathan Bush from Athena Health.