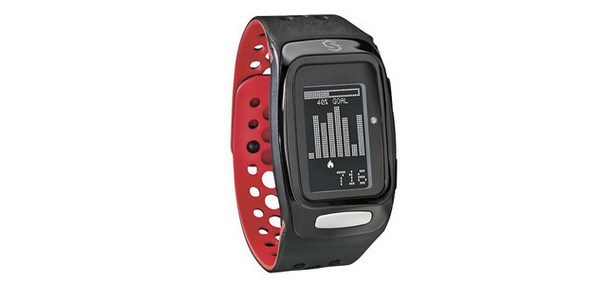 Battery Powered Fitness Band Sync Burn
Fitness bands are a dime a dozen these days. Everyone has one, it seems, from audio manufacturers like Jawbone to upstarts likeFitbit and Basis. Now the EB Sports Group, a company that makes fitness devices under a number of brands including Everlast and Men's Health. I've historically been wary of "no name" bands like this one – bands that are created to cash in on a trend rather than from an effort to create a software/hardware ecosystem, but I'll give this unit a pass for a few reasons.
The most interesting aspect of the Burn is its 1-year battery life. As a regular Fitbit user, I would kill for a device with a fully readable screen that can last longer than two weeks, let alone 365 days. The device is basically a digital watch and is about the size of the Pebble smart watch. The button on the top right controls the readout – you can tag workouts, see your hourly energy expenditure, and see exercise history. The lower right button activates the sync features which, in turn, activates a low energy Bluetooth transmitter.