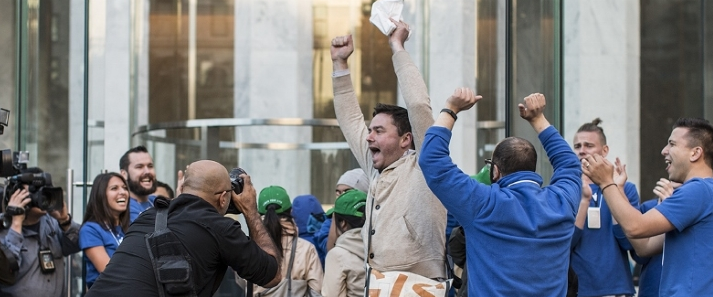 Apple is on track to break a new set of records for this quarter.
Apple's iPhone sales have erupted in recent months and it seems that the company is on the way to a quarter of record sales.
The latest figures have shown that Apple has taken over 41 percent of the phablet market in under one month and this number is expected to rise as more figures come in.
According to statistics from Kantar,  9 percent of those who purchased Apple's larger iPhone 6 Plus were former Android users, the rest were iOS buffs who simply wanted to upgrade.
50 percent of those who chose to purchase an iPhone this year did so because of the larger size which proves that cellular devices are shifting into the "bigger is better" phase.
The iPhone 6 Plus is not the only version getting all the glory however. The iPhone 6 also accounted for 33 percent of all iOS sales in this quarter and again, the main reason for consumers choosing the device was also it's size.
Samsung, which is the largest maker of Android devices struggled to keep up, taking in just 22 percent of sales.
As the holiday period heats up, it remains to be seen whether Apple can continue to dominate the market, but something tells us that they will have no problem in doing so.