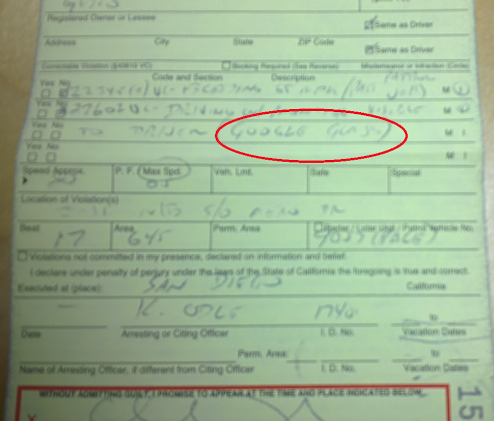 Woman Ticketed In California For Wearing Google Glass
An early adopter of Google Glass was ticketed recently in California for wearing Google Glass while driving.
The secondary citation was listed as "distracted driving" and "google glass" was specifically also listed on the ticket.
The woman's name is Cecilia and shortly after getting the ticket she posted this online:
A cop just stopped me and gave me a ticket for wearing Google Glass while driving! The exact line says: Driving with Monitor visible to Driver (Google Glass). Is #GoogleGlass ilegal [sic] while driving or is this cop wrong???
Thousands of people have come to her side and even Google themselves apparently wants to get a ruling in court on this so that motorists can wear the device while driving. In theory, its even more safe than a navigation system because you don't have to turn your eyes away from the road to see where to go as you would if you had to look down or away to see a screen.