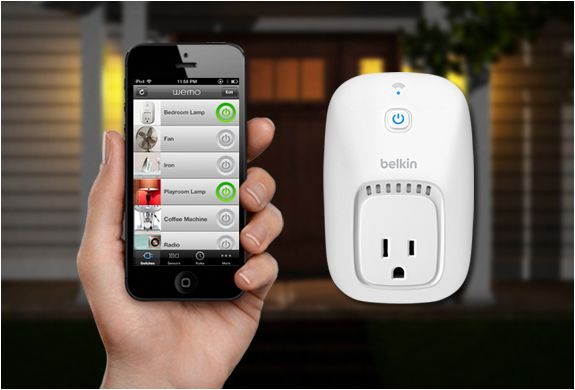 Wouldn't it be convenient if you could control the electronic devices in  your house without having to move an inch? Yes, such technology exists and is readily available in the market. Today we'll be talking about the WeMo Switch from Belkin, that allows you to control your electrical appliances using your smartphone.
The best part about WeMo Switch is that it does not require you to make any changes to the electrical wiring in your house. Wemo can be plugged into an ordinary wall socket and that's it. With that, you can turn your house into a smart house and any appliance into a smart appliance. Once plugged, an appliance needs to be plugged into the Wemo Switch (which has a regular wall socket) and can then be controlled using an iPhone, iPad, iPod or an Android smartphone or tablet.
Not only can you turn on or turn off the devices, but you can also program the Switch to turn off or turn on at a certain point in time during the day or after a select period of time. The WeMo Switch is modular and can be used with additional WeMo products like Smart LED Bulbs, WeMo Switch, WeMo Motion, WeMo Light Switch or WeMo Insight Switches.
WeMo Switch works on 3G/4G and WiFi networks and is available for an affordable price of $49.99. The Switch requires the free WeMo app available on the Play Store and App Store that is compatible with devices running Android 4.0 and above and iOS 5.0.