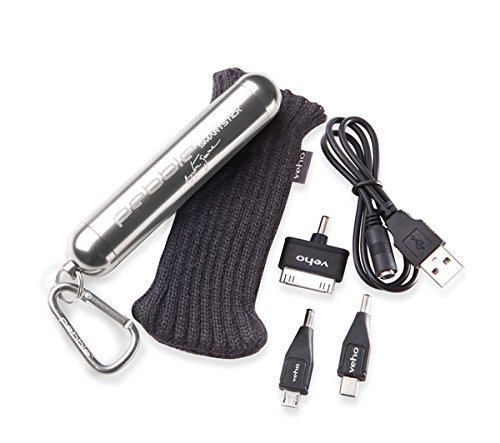 Veho's Ayrton Senna-inspired Pebble SmartStick+ is possibly one of the coolest-looking portable phone chargers we've seen. It will provide a full charge for any smartphone including iPhone 5/5s, iPhone 6 / 6 Plus, and potentially two for those with smaller-capacity batteries. It won't charge either itself or your device in a hurry though, with just 500mA input and output.
The Smartstick+ is a smooth, metal stick with rounded edges and F1 driver Ayrton Senna's signature emblazoned on the side. It's supplied with both a carry case and a karabiner clip, so it's up to you whether you shove it in a bag or attach it to your key-ring.
The Pebble Smartstick+ is supplied with a short USB cable and three interchangeable connectors: Micro-USB, Mini-USB and a 30-port Apple connector. More usefully, when the Pebble is being charged one end glows red; when the battery is full it glows blue.
Charge your portable device on the move without the need for mains power. Small and light enough to carry around in your bag, or clip on your rucksack, the Ayrton Senna Signature Collection PEBBLE Smartstick+ portable emergency charger will provide charging to most popular devices including: Apple 30 pin, Blackberry and Android devices including iPhone, iPod, Blackberry, Samsung, Nokia, HTC among others.