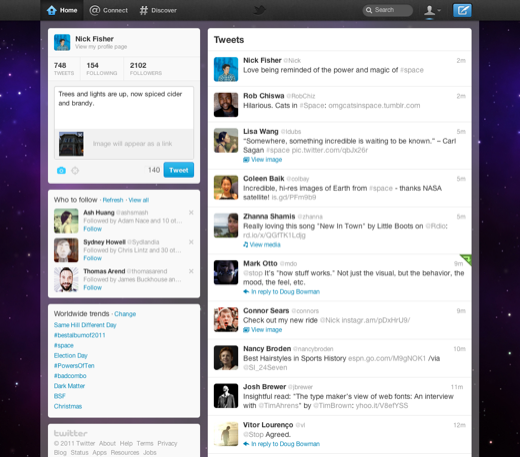 Twitter has just announced that it is releasing a new, fresh look for it's desktop based version.
"We're now rolling out a refreshed https://twitter.com reflecting the look & feel of our iOS & Android apps," Twitter announced in a tweet.
Twitter wants a uniform look across their web page and app versions and have decided to update the look and feel of the desktop version.
The new version is set to launch today and the company has confirmed that it has been testing the new layouts for some time now. Infact, 1 percent of Twitter users were tested on the new design for the last few months- so if you don't notice any updates to your page today, looks like you were one of the lab rats!
While the page looks a lot like the old version, one of the biggest changes is that there is now an inline compose box on the left side of the screen, allowing you to tweet without having to deal with the pop-up box. For users that are resistant to change however, the pop up box is still available by the "new tweet" button in the upper right hand corner.
The new move by Twitter is in an effort to move those just browsing tweets into actually tweeting and regular web users of Twitter are supposedly very happy with the changes.