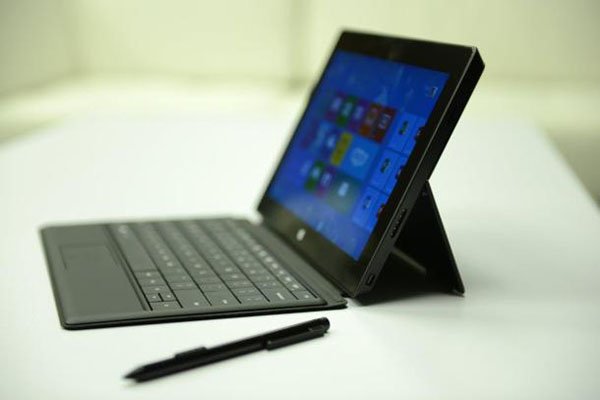 So, for those of you who've been looking forward to Microsoft's upcoming new tablet, the "Surface Pro", you may be able to see it on display at a local retailer. Chances are, you won't be able to buy it, but you will be able to fool around with it, see the new features, and how it differs from the Surface RT. Rumor is, it's available on display at some select Microsoft stores, so if you're lucky enough to have one close by, definitely drop by and check it out, you might be one of the lucky ones that gets to take this bad boy for a test run before anyone else.
This new tablet runs the new Windows 8 OS, because it runs on Intel hardware. The original Surface RT runs on what's called Windows RT, though no one seems to know what the difference is between the two OS's, however, we believe this new Windows 8 model might run smoother than the previous models. People will likely be relieved to see this new tablet on a familiar OS, and a solid one at that.
If you happen to live in New York City, they'll be doing a big Midnight release party, on the evening of February 8th at Best Buy, but unfortunately, it's by invitation only, so who knows who'll actually be there. Assuming they're not selling any of the one's that are on display now, those people will be the first ones to get their hands on it. The rest of us will have to wait till the morning of February 9th. It'll be available for $899, which is a fairly reasonable price, considering it's the latest tech, and capable of a good deal more than the previous model. One of the nice things about Surface Pro, is that it will have a 64 gig and 128 gig model, as oppose to the RT, which only has a 32 gig and 64 gig model. This is great for people who are willing to spring for a little extra space.
So, if you're looking to get out their and check out the new Surface Pro, be sure to check at Microsoft stores first, and if you can't find them there, then we'd recommend looking at Best Buy first, then Staples, but we don't know exactly where it's currently on display. So go on a treasure hunt, and if you find it, you'll be one of the first ones world-wide to play around with this new tablet, even before the VIP's who get to buy it on February 9th. Happy Hunting.