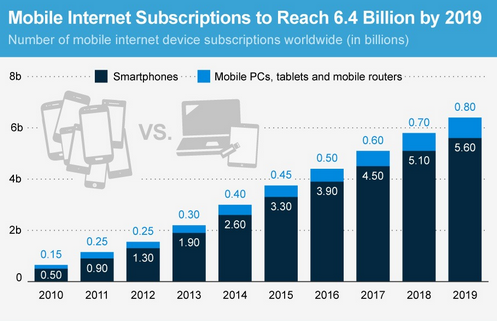 Mobile Internet Subscriptions To Reach 6.4 Billion By 2019
Ericcson's 2013 mobility report shows that by 2019 mobile internet subscriptions will reach 6.4 billion.
That means that they will more than triple by 2019.
People these days are glued to their smartphones and tablets and by 2019 there are sure to be more affordable and in more hands of gadget freaks (and future gadget freaks) around the world.
When they say Mobile subscriptions this not only includes mobile phones but all future devices that "could be". This could include anything from tablets, to wearables to anything that is dreamed up in the near future.
Daily Gadgetry could be one of the sites accessed on mobile devices where people are buying subscriptions in 2019.