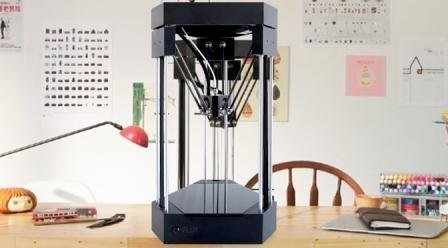 The FLUX All-in-One 3D printer/scanner/laser engraver started its Kickstarter campaign last month and it has raised a mind-blowing $1,641,075, blasting past its initial $100,000 goal, backed by 2,707 backers.
The FLUX is an All-in-One 3D printer/scanner/laser engraver and thanks to its modular functions there is also a great room for further expansion.
The device will allow users to create, share and download designs directly from their mobile devices and connect to the printer via Bluetooth for more convenient operation.
Flux creators say:
the right choice for everyone…

Unlimited, elegant, and simple — FLUX is the right choice for everyone because it is simple to set up, elegantly designed, and has an unlimited capacity for expansion. In addition to the basic FFF (fused filament fabrication) 3D printing, FLUX is equipped with a built-in 3D scanner and supports an ever-increasing array of interchangeable modules. FLUX is the everything 3D printer that grows with you— meeting not only your 3D printing needs today, but also of all your tomorrows.
Please watch the video below to see it in action:
The Flux All in One Printer has a built-in 3D Scanner that will allow the user to create an image file in 3D in order to replicate the object required. Flux creators mention that the Flux is also capable of pyrography.
The Flux will print with a layer thickness of 50 microns and come with Bluetooth, Wi-Fi and an SD card slot.
SmartPhone Controlled:
The build volume will be 17 x 17 x 18 cm (6.7″ x 6.7″ x 7.1″), and you'll even be able to control it from your smartphone
Kickstarter project is now over, and the Flux is now a reality (if there are no problems in the process if mass production) , and due to ship by early July 2015.