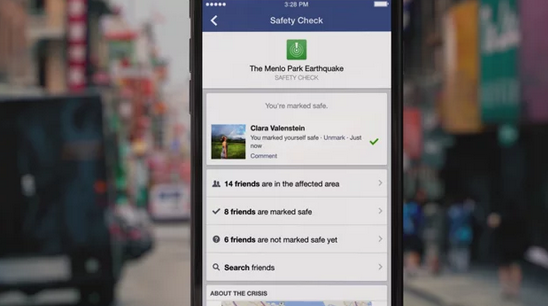 Facebook has proudly announced their new "safety check" feature, a tool that will allow users to notify if their friends that they are safe during disasters.
Safety Check launched on Wednesday after the social media giant noticed that users were turning to Facebook to notify their friends and family on potential disasters or issues in their area.
"In times of disaster or crisis, people turn to Facebook to check on loved ones and get updates. It is in these moments that communication is most critical both for people in the affected areas and for their friends and families anxious for news," stated Facebook in a blog post.
Safety Check works by activating in an affected area after a natural disaster has been reported. Your location will then be determined and listed on your profile if they have the security setting enabled.
If users are safe, they then simply have to state "I am safe" which is a drop down option. This will then be shared on their feed.
"If you are ever in a situation that would require you to use SafetyCheck, we hope its a tool that helps you stay connected to those you care about and gives you comfort of knowing your loved ones are safe," continued the blog post.