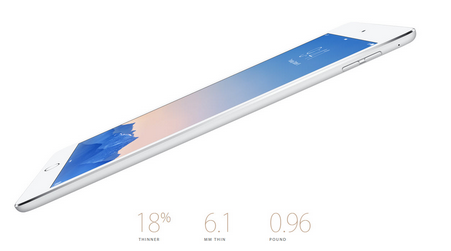 Thinking of buying a new iPad but not sure which model is right for you or the best value? We have broken it all down to make choosing the right iPad Air a breeze (no pun intended)….
1.) Design:
The iPad Air 2 is thin, very thin- in fact, its 18% thinner than the iPad Air making it one of the thinnest tablets in the world.
Here are the dimensions:
iPad Air: 240 x 169.5 x 7.5mm (9.4 x 6.6 x 0.28 inches) and 478/469g (1.05/1lbs) for cellular/non-cellular
iPad Air 2: 240 x 169.5 x 6.1mm (9.4 x 6.6 x 0.24 inches) and 444/437g (0.98/0.96lbs) for cellular/non-celluar
In other design news, the iPad Air 2 comes in a delicious gold color as well as space gray and silver making it sleek and fashionable.
2.) Display
The resolution on both is exactly the same- 9.7 inch screen at 2048×1538 pixels.
The only difference however is that the Air 2 has a fingerprint resistant oleophobic anti-reflecting coating.
3.) Performance and Features
Air 2 is faster as its fuelled by a 64-bit A7X chipset. In layman terms, its around 40-50% faster than the Air.
The Air 2 also comes with Touch ID, and is Apple Pay compatible. It also has an 802.11ac Wifi MIMO for improved connectivity speeds and enhanced LTE.
3.) Camera
Air 2 has a 8 megapixel rear facing iSight camera this is compared to the original Air which has only a 5 megapixel camera.
Both the Air and Air 2 however can shoot 1080p HD video but the Air 2 allows for timelapse shooting.
4.) Battery Life
Both the Air and Air 2 have around 10 hours of battery life over Wi-Fi.
5.) Cost 
The Air 2 with only Wi-Fi capabilities will retail for:
$499 for the 16GB
$599 for the 64 GB
$699 for the 128GB
The Air with Wi-Fi only will retail for:
$399 for the 16GB
$499 for the 64 GB
$599 for the 128GB
Saving you around $100.
Conclusion-
Of course the specs and features on the new iPad Air 2 are superior and for just $100 more, we recommend going for the Air 2.